Subdomains lookup API use case.
As SEO professionals sometimes we need to know Websites' subdomains data for certain domain and there is a very useful online service for web developers and SEO professionals on "WhoisXML API" that provides Domain & IP Data Intelligence for Greater Enterprise Securityand RESTful APIs that we will use.

Using it's APIs you can perform many handy data requests, for example you can Websites' subdomains lookup data for a certain website - don't forget to get your API KEY. You will obtain With one API call ready to use parsed list of all subdomains which belong to a given domain name to reveal a company's entire web infrastructure.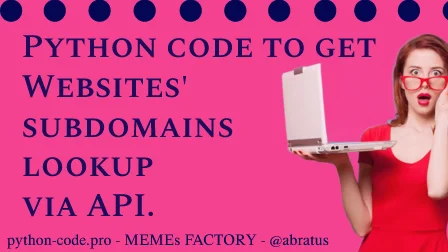 This Python script below will use information from "WhoisXML API" and provide you a result in a JSON format without the need to use a web browser.
Getting websites' subdomains data can be easily automated now !
Python code to get Website subdomains data via API:

# Website Subdomains Lookup API USE

import requests


website = 'duckduckgo.com'

APIKEY ='at_ZUVkrukr4Uhhhsfq2j6dyv2VhFGWYV'
   
subdomainsInfoURL = f'https://subdomains.whoisxmlapi.com/api/v1?apiKey={APIKEY}&domainName={website}'

r = requests.get(subdomainsInfoURL)

subdomainsInfo = r.json()

print(f'Subdomains Info for {website} domain.\n')
subdomainsInfo

Website subdomains data output:

Subdomains Info for duckduckgo.com domain.

{'search': 'duckduckgo.com',
 'result': {'count': 404,
  'records': [{'domain': 'ssymons.duckduckgo.com',
    'firstSeen': 1607493664,
    'lastSeen': 1613887326},
   {'domain': 'r.duckduckgo.com',
    'firstSeen': 1579958795,
    'lastSeen': 1579958795},
   {'domain': 'start.duckduckgo.com',
    'firstSeen': 1519603200,
    'lastSeen': 1579919478},
   {'domain': 'ddh2.duckduckgo.com',
    'firstSeen': 1600146960,
    'lastSeen': 1607493723},
   {'domain': 'blake.duckduckgo.com',
    'firstSeen': 1607493699,
    'lastSeen': 1607493725},
   {'domain': 'ddh10.duckduckgo.com',
    'firstSeen': 1600492562,
    'lastSeen': 1618203731},
   {'domain': 'www.duckduckgo.com', 'firstSeen': 0, 'lastSeen': 1652270847},
   {'domain': 'mysticgirlsperfection.duckduckgo.com',
    'firstSeen': 0,
    'lastSeen': 0},
   {'domain': 'aue-ip-2.duckduckgo.com',
    'firstSeen': 1635811200,
    'lastSeen': 1641772800},
   {'domain': 'usw-links-aps.duckduckgo.com',
    'firstSeen': 1636588800,
    'lastSeen': 1641772800},
   {'domain': 'brs-ip-5.duckduckgo.com',
    'firstSeen': 1635724800,
    'lastSeen': 1641772800},
   {'domain': 'eun-ip-2.duckduckgo.com',
    'firstSeen': 1635724800,
    'lastSeen': 1641772800},
   {'domain': 'brs-linkspme-aps.duckduckgo.com',
    'firstSeen': 1635120000,
    'lastSeen': 1641772800},
   {'domain': 'web-usw-1.duckduckgo.com',
    'firstSeen': 1637366400,
    'lastSeen': 1641772800},
   {'domain': 'use-ip-19.duckduckgo.com',
    'firstSeen': 1637107200,
    'lastSeen': 1641772800},
   {'domain': 'eun-marcosh1.duckduckgo.com',
    'firstSeen': 1631163712,
    'lastSeen': 1661922134},
   {'domain': 'use-mattermost1.duckduckgo.com',
    'firstSeen': 0,
    'lastSeen': 1661714523},
   {'domain': 'use-devcpu4.duckduckgo.com',
    'firstSeen': 1660973348,
    'lastSeen': 1660973348},
   {'domain': 'use-login.duckduckgo.com',
    'firstSeen': 1659340159,
    'lastSeen': 1661949661},
   {'domain': 'zach.duckduckgo.com',
    'firstSeen': 1596690146,
    'lastSeen': 1621015276},
   {'domain': 'russell.duckduckgo.com',
    'firstSeen': 1596517315,
    'lastSeen': 1613369610},
   {'domain': 'moollaza.duckduckgo.com',
    'firstSeen': 1597986097,
    'lastSeen': 1625029307},
   {'domain': 'use-senglehardt1.duckduckgo.com',
    'firstSeen': 1632373281,
    'lastSeen': 1651381306},
   {'domain': 'aue-mmeyer1.duckduckgo.com',
    'firstSeen': 1628744522,
    'lastSeen': 1628744522},
   {'domain': 'use-links-aps.duckduckgo.com',
    'firstSeen': 1636934400,
    'lastSeen': 1641772800},
   {'domain': 'euw-ip-8.duckduckgo.com',
    'firstSeen': 1635724800,
    'lastSeen': 1641772800},
   {'domain': 'brs-ip-8.duckduckgo.com',
    'firstSeen': 1635552000,
    'lastSeen': 1641772800},
   {'domain': 'ase-ip-7.duckduckgo.com',
    'firstSeen': 1635984000,
    'lastSeen': 1641772800},
   {'domain': 'aue-ip-6.duckduckgo.com',
    'firstSeen': 1638144000,
    'lastSeen': 1641772800},
   {'domain': 'usc-ip-3.duckduckgo.com',
    'firstSeen': 1636588800,
    'lastSeen': 1641772800},
   {'domain': 'use-moollaza1.duckduckgo.com',
    'firstSeen': 1628830917,
    'lastSeen': 1659461046},
   {'domain': 'euw-avianasanchez1.duckduckgo.com',
    'firstSeen': 1625594989,
    'lastSeen': 1659330124},
   {'domain': 'usc-jason1.duckduckgo.com',
    'firstSeen': 1624984290,
    'lastSeen': 1662440526},
   {'domain': 'use-tommy1.duckduckgo.com',
    'firstSeen': 1627335410,
    'lastSeen': 1660626066},
   {'domain': 'api.duckduckgo.com',
    'firstSeen': 1579921544,
    'lastSeen': 1589077809},
   {'domain': 'use-bkaiser1.duckduckgo.com',
    'firstSeen': 1652989900,
    'lastSeen': 1659762129},
   {'domain': 'support.duckduckgo.com',
    'firstSeen': 1579962876,
    'lastSeen': 1579962876},
   {'domain': 'marcos.duckduckgo.com',
    'firstSeen': 1607493697,
    'lastSeen': 1621227720},
   {'domain': 'usw-ip-5.duckduckgo.com',
    'firstSeen': 1637625600,
    'lastSeen': 1641772800},
   {'domain': 'use-ip-2.duckduckgo.com',
    'firstSeen': 1641427200,
    'lastSeen': 1641772800},
   {'domain': 'ac.duckduckgo.com', 'firstSeen': 0, 'lastSeen': 0},
   {'domain': 'aue-ip-8.duckduckgo.com',
    'firstSeen': 1636588800,
    'lastSeen': 1641772800},
   {'domain': 'ase-ip-6.duckduckgo.com',
    'firstSeen': 1635120000,
    'lastSeen': 1641772800},
   {'domain': 'inw-ip-6.duckduckgo.com',
    'firstSeen': 1637366400,
    'lastSeen': 1641772800},
   {'domain': 'euw-ip-1.duckduckgo.com',
    'firstSeen': 1635984000,
    'lastSeen': 1641772800},
   {'domain': 'eun-nalcalagarcia1.duckduckgo.com',
    'firstSeen': 1644794587,
    'lastSeen': 1657774913},
   {'domain': 'usw-sebastien1.duckduckgo.com',
    'firstSeen': 1624983470,
    'lastSeen': 1657993158},
   {'domain': 'usc-ladamski1.duckduckgo.com',
    'firstSeen': 1625071151,
    'lastSeen': 1659330035},
   {'domain': 'usw-ashuba1.duckduckgo.com',
    'firstSeen': 1656046879,
    'lastSeen': 1656092306},
   {'domain': 'icons.duckduckgo.com',
    'firstSeen': 1546654492,
    'lastSeen': 1578813184},
   {'domain': 'mia.duckduckgo.com',
    'firstSeen': 1600578028,
    'lastSeen': 1607493726},
   {'domain': 'use-jve1.duckduckgo.com',
    'firstSeen': 1629396102,
    'lastSeen': 1653282113},
   {'domain': 'jfrank.duckduckgo.com',
    'firstSeen': 1596345425,
    'lastSeen': 1613023306},
   {'domain': 'greg.duckduckgo.com',
    'firstSeen': 1599368572,
    'lastSeen': 1622956317},
   {'domain': 'natalie.duckduckgo.com',
    'firstSeen': 1600146171,
    'lastSeen': 1621447285},
   {'domain': 'viktor.duckduckgo.com',
    'firstSeen': 1567879731,
    'lastSeen': 1628917313},
   {'domain': 'va-terrorform1.duckduckgo.com',
    'firstSeen': 1546656233,
    'lastSeen': 1630299708},
   {'domain': 'va-searchtests4.duckduckgo.com',
    'firstSeen': 1620104501,
    'lastSeen': 1649685091},
   {'domain': 'euw-mateusz1.duckduckgo.com',
    'firstSeen': 1624985856,
    'lastSeen': 1650344511},
   {'domain': 'euw-osoriano1.duckduckgo.com',
    'firstSeen': 1624999763,
    'lastSeen': 1653673124},
   {'domain': 'eun-ip-8.duckduckgo.com',
    'firstSeen': 1635724800,
    'lastSeen': 1641772800},
   {'domain': 'aue-links-aps-2.duckduckgo.com',
    'firstSeen': 1637971200,
    'lastSeen': 1641772800},
   {'domain': 'use-links-aps-4.duckduckgo.com',
    'firstSeen': 1638748800,
    'lastSeen': 1641772800},
   {'domain': 'sync.duckduckgo.com',
    'firstSeen': 1655830064,
    'lastSeen': 1658756536},
   {'domain': 'use-jaryd1.duckduckgo.com',
    'firstSeen': 1631336491,
    'lastSeen': 1655615768},
   {'domain': 'use-sbegleymiller1.duckduckgo.com',
    'firstSeen': 1642658489,
    'lastSeen': 1660412323},
   {'domain': 'euw-arasolofotsara1.duckduckgo.com',
    'firstSeen': 1641603729,
    'lastSeen': 1660280507},
   {'domain': 'dantest.duckduckgo.com',
    'firstSeen': 1618599071,
    'lastSeen': 1618599171},
   {'domain': 'use-devcpu1.duckduckgo.com',
    'firstSeen': 1630645307,
    'lastSeen': 1657774947},
   {'domain': 'euw-daniele1.duckduckgo.com',
    'firstSeen': 1640930443,
    'lastSeen': 1658120512},
   {'domain': 'use-devtesting9.duckduckgo.com',
    'firstSeen': 1624548659,
    'lastSeen': 1648184521},
   {'domain': 'thom.duckduckgo.com',
    'firstSeen': 1609308102,
    'lastSeen': 1620018125},
   {'domain': 'brs-marcos1.duckduckgo.com',
    'firstSeen': 1624986235,
    'lastSeen': 1631336505},
   {'domain': 'va-bastion1.duckduckgo.com',
    'firstSeen': 1546656248,
    'lastSeen': 1589123850},
   {'domain': 'agimenez.duckduckgo.com',
    'firstSeen': 1622169886,
    'lastSeen': 1627707733},
   {'domain': 'ase-ip-1.duckduckgo.com',
    'firstSeen': 1635724800,
    'lastSeen': 1641772800},
   {'domain': 'euw-links-aps-4.duckduckgo.com',
    'firstSeen': 1636675200,
    'lastSeen': 1641772800},
   {'domain': 'aue-bastion1.duckduckgo.com',
    'firstSeen': 1635724800,
    'lastSeen': 1641772800},
   {'domain': 'use-ip-5.duckduckgo.com',
    'firstSeen': 1641513600,
    'lastSeen': 1641772800},
   {'domain': 'safe2.duckduckgo.com',
    'firstSeen': 1635984000,
    'lastSeen': 1641772800},
   {'domain': 'eun-ip-4.duckduckgo.com',
    'firstSeen': 1634860800,
    'lastSeen': 1641772800},
   {'domain': 'usc-ip-5.duckduckgo.com',
    'firstSeen': 1635724800,
    'lastSeen': 1641772800},
   {'domain': 'usc-links-aps-6.duckduckgo.com',
    'firstSeen': 1636848000,
    'lastSeen': 1641772800},
   {'domain': 'aue-links-aps-3.duckduckgo.com',
    'firstSeen': 1638316800,
    'lastSeen': 1641772800},
   {'domain': 'ase-links-aps.duckduckgo.com',
    'firstSeen': 1634860800,
    'lastSeen': 1641772800},
   {'domain': 'bartek.duckduckgo.com',
    'firstSeen': 1602133315,
    'lastSeen': 1626153385},
   {'domain': 'www.biasiswa.duckduckgo.com', 'firstSeen': 0, 'lastSeen': 0},
   {'domain': 'use-charmston1.duckduckgo.com',
    'firstSeen': 1624983592,
    'lastSeen': 1659330121},
   {'domain': 'ddh4.duckduckgo.com',
    'firstSeen': 1601182926,
    'lastSeen': 1601183766},
   {'domain': 'safe.duckduckgo.com',
    'firstSeen': 1546652415,
    'lastSeen': 1589118774},
   {'domain': 'va-searchtests1.duckduckgo.com',
    'firstSeen': 1611716206,
    'lastSeen': 1641841574},
   {'domain': 'use-links-backend.duckduckgo.com',
    'firstSeen': 1635811200,
    'lastSeen': 1641772800},
   {'domain': 'use-ip-17.duckduckgo.com',
    'firstSeen': 1638144000,
    'lastSeen': 1641772800},
   {'domain': 'brs-links-aps.duckduckgo.com',
    'firstSeen': 1636416000,
    'lastSeen': 1641772800},
   {'domain': 'eun-ip-6.duckduckgo.com',
    'firstSeen': 1639612800,
    'lastSeen': 1641772800},
   {'domain': 'smtpmailer.duckduckgo.com',
    'firstSeen': 1647408579,
    'lastSeen': 1647408579},
   {'domain': 'help.duckduckgo.com',
    'firstSeen': 1368403200,
    'lastSeen': 1660521600},
   {'domain': 'tommy.duckduckgo.com',
    'firstSeen': 1612595689,
    'lastSeen': 1619672534},
   {'domain': 'quackdev1.duckduckgo.com',
    'firstSeen': 1618599464,
    'lastSeen': 1618600359},
   {'domain': 'johnm.duckduckgo.com',
    'firstSeen': 1609567297,
    'lastSeen': 1620190911},
   {'domain': 'konrad.duckduckgo.com',
    'firstSeen': 1596776532,
    'lastSeen': 1626152523},
   {'domain': 'ddh14.duckduckgo.com',
    'firstSeen': 1609739557,
    'lastSeen': 1627236094},
   {'domain': 'mmeyer.duckduckgo.com',
    'firstSeen': 1624338096,
    'lastSeen': 1624338096},
   {'domain': 'ddh13.duckduckgo.com',
    'firstSeen': 1609738843,
    'lastSeen': 1622350933},
   {'domain': 'davidg.duckduckgo.com',
    'firstSeen': 1596776557,
    'lastSeen': 1631077324},
   {'domain': 'marc.duckduckgo.com',
    'firstSeen': 1608530441,
    'lastSeen': 1630386099},
   {'domain': 'email.duckduckgo.com', 'firstSeen': 0, 'lastSeen': 0},
   {'domain': 'use-marc1.duckduckgo.com',
    'firstSeen': 1629781312,
    'lastSeen': 1656133318},
   {'domain': 'tom.duckduckgo.com',
    'firstSeen': 1612245699,
    'lastSeen': 1619672569},
   {'domain': 'ddh15.duckduckgo.com',
    'firstSeen': 1609739423,
    'lastSeen': 1625635072},
   {'domain': 'isa.duckduckgo.com',
    'firstSeen': 1594963017,
    'lastSeen': 1626152575},
   {'domain': 'jason.duckduckgo.com',
    'firstSeen': 1619931693,
    'lastSeen': 1626152518},
   {'domain': 'use-peter1.duckduckgo.com',
    'firstSeen': 1630386085,
    'lastSeen': 1630472536},
   {'domain': 'links.duckduckgo.com',
    'firstSeen': 1600438357,
    'lastSeen': 1600438357},
   {'domain': 'brian.duckduckgo.com',
    'firstSeen': 1611381749,
    'lastSeen': 1611381759},
   {'domain': 'smacbeth.duckduckgo.com',
    'firstSeen': 1609740442,
    'lastSeen': 1609740458},
   {'domain': 'flawrence.duckduckgo.com',
    'firstSeen': 1611046684,
    'lastSeen': 1628226149},
   {'domain': 'peter.duckduckgo.com',
    'firstSeen': 1623128524,
    'lastSeen': 1623128532},
   {'domain': 'usc-mpruett1.duckduckgo.com',
    'firstSeen': 1624984704,
    'lastSeen': 1642444730},
   {'domain': 'usc-links-backend.duckduckgo.com',
    'firstSeen': 1637366400,
    'lastSeen': 1641772800},
   {'domain': 'safe-aue-1.duckduckgo.com',
    'firstSeen': 1636675200,
    'lastSeen': 1641772800},
   {'domain': 'brs-bastion1.duckduckgo.com',
    'firstSeen': 1641513600,
    'lastSeen': 1641772800},
   {'domain': 'euw-acapatina1.duckduckgo.com',
    'firstSeen': 1626068249,
    'lastSeen': 1647970711},
   {'domain': 'euw-jpbochi1.duckduckgo.com',
    'firstSeen': 1644818467,
    'lastSeen': 1660712547},
   {'domain': 'eun-bmoon1.duckduckgo.com',
    'firstSeen': 1629439261,
    'lastSeen': 1662181324},
   {'domain': 'euw-bastion1.duckduckgo.com',
    'firstSeen': 1637884800,
    'lastSeen': 1662011118},
   {'domain': 'daniele.duckduckgo.com',
    'firstSeen': 1601874100,
    'lastSeen': 1620622923},
   {'domain': 'eric.duckduckgo.com',
    'firstSeen': 1621314120,
    'lastSeen': 1621314120},
   {'domain': 'wiki.duckduckgo.com',
    'firstSeen': 1579967569,
    'lastSeen': 1579967569},
   {'domain': 'staging-links-backend.duckduckgo.com',
    'firstSeen': 1636934400,
    'lastSeen': 1641772800},
   {'domain': 'euw-links-aps-3.duckduckgo.com',
    'firstSeen': 1637452800,
    'lastSeen': 1641772800},
   {'domain': 'charmston.duckduckgo.com',
    'firstSeen': 1596503635,
    'lastSeen': 1618466845},
   {'domain': 'news.duckduckgo.com',
    'firstSeen': 1579952744,
    'lastSeen': 1579952744},
   {'domain': 'ff.duckduckgo.com',
    'firstSeen': 1546619067,
    'lastSeen': 1579935404},
   {'domain': 'amartemyanov.duckduckgo.com',
    'firstSeen': 1608344243,
    'lastSeen': 1608344299},
   {'domain': 'emanuele.duckduckgo.com',
    'firstSeen': 1607925743,
    'lastSeen': 1607972484},
   {'domain': 'smtpmailer1.duckduckgo.com',
    'firstSeen': 1646755789,
    'lastSeen': 1646755789},
   {'domain': 'wome.duckduckgo.com', 'firstSeen': 0, 'lastSeen': 0},
   {'domain': 'use-hfiedler1.duckduckgo.com',
    'firstSeen': 1627664436,
    'lastSeen': 1659359240},
   {'domain': 'use-searchtests1.duckduckgo.com',
    'firstSeen': 1642782792,
    'lastSeen': 1656351545},
   {'domain': 'euw-vstashkov1.duckduckgo.com',
    'firstSeen': 1632816910,
    'lastSeen': 1658338767},
   {'domain': 'use-searchtests2.duckduckgo.com',
    'firstSeen': 1645799398,
    'lastSeen': 1658639376},
   {'domain': 'eun-sstefansson1.duckduckgo.com',
    'firstSeen': 1643868054,
    'lastSeen': 1659762131},
   {'domain': 'euw-ankit1.duckduckgo.com',
    'firstSeen': 1625520283,
    'lastSeen': 1659893954},
   {'domain': 'use-mburgert1.duckduckgo.com',
    'firstSeen': 1641422952,
    'lastSeen': 1659934907},
   {'domain': 'euw-kdimla1.duckduckgo.com',
    'firstSeen': 1638560291,
    'lastSeen': 1660798957},
   {'domain': 'use-dng1.duckduckgo.com',
    'firstSeen': 0,
    'lastSeen': 1661950991},
   {'domain': 'jve.duckduckgo.com',
    'firstSeen': 1578048867,
    'lastSeen': 1598072539},
   {'domain': 'karma.duckduckgo.com',
    'firstSeen': 1579943287,
    'lastSeen': 1579943287},
   {'domain': 'yahoo.duckduckgo.com',
    'firstSeen': 1579932662,
    'lastSeen': 1579932662},
   {'domain': 'va-terrorform5.duckduckgo.com',
    'firstSeen': 1599781435,
    'lastSeen': 1599781441},
   {'domain': 'sebastien.duckduckgo.com',
    'firstSeen': 1611036031,
    'lastSeen': 1621832484},
   {'domain': 'use-links-aps-1.duckduckgo.com',
    'firstSeen': 1638144000,
    'lastSeen': 1641772800},
   {'domain': 'transactional-emails.internal-sandbox.duckduckgo.com',
    'firstSeen': 1613428594,
    'lastSeen': 1655787966},
   {'domain': 'use-devtesting12.duckduckgo.com',
    'firstSeen': 1624584162,
    'lastSeen': 1656219685},
   {'domain': 'euw-viktor1.duckduckgo.com',
    'firstSeen': 1631422937,
    'lastSeen': 1654664507},
   {'domain': 'usw-jfrank1.duckduckgo.com',
    'firstSeen': 1631941315,
    'lastSeen': 1653541309},
   {'domain': 'usw-johnm1.duckduckgo.com',
    'firstSeen': 1624984064,
    'lastSeen': 1657083734},
   {'domain': 'use-devtesting6.duckduckgo.com',
    'firstSeen': 1624580116,
    'lastSeen': 1656651711},
   {'domain': 'va-searchtests3.duckduckgo.com',
    'firstSeen': 1611716729,
    'lastSeen': 1641842527},
   {'domain': 'use-links-aps-2.duckduckgo.com',
    'firstSeen': 1635552000,
    'lastSeen': 1641772800},
   {'domain': 'aue-ip-5.duckduckgo.com',
    'firstSeen': 1640390400,
    'lastSeen': 1641772800},
   {'domain': 'use-searchtests4.duckduckgo.com',
    'firstSeen': 1645808894,
    'lastSeen': 1659548344},
   {'domain': 'dev-sync-use.duckduckgo.com',
    'firstSeen': 1655784826,
    'lastSeen': 1658747523},
   {'domain': 'eun-smacbeth1.duckduckgo.com',
    'firstSeen': 1625071316,
    'lastSeen': 1660453830},
   {'domain': 'usc-ip-9.duckduckgo.com',
    'firstSeen': 1638748800,
    'lastSeen': 1662002530},
   {'domain': 'eun-ip-3.duckduckgo.com',
    'firstSeen': 1634860800,
    'lastSeen': 1662006106},
   {'domain': 'use-ip-21.duckduckgo.com',
    'firstSeen': 1635811200,
    'lastSeen': 1662004953},
   {'domain': 'usw-ghightower1.duckduckgo.com',
    'firstSeen': 1630126891,
    'lastSeen': 1662094908},
   {'domain': 'i.duckduckgo.com',
    'firstSeen': 1579940199,
    'lastSeen': 1579940199},
   {'domain': 'sschirmer.duckduckgo.com',
    'firstSeen': 1600060779,
    'lastSeen': 1621400550},
   {'domain': 'ddh6.duckduckgo.com',
    'firstSeen': 1564126023,
    'lastSeen': 1620625303},
   {'domain': 'abrown.duckduckgo.com',
    'firstSeen': 1621227710,
    'lastSeen': 1626976880},
   {'domain': 'store.duckduckgo.com',
    'firstSeen': 1579962864,
    'lastSeen': 1579962864},
   {'domain': 'lamigo.duckduckgo.com',
    'firstSeen': 1598504505,
    'lastSeen': 1598504521},
   {'domain': 'duckduckbot.duckduckgo.com',
    'firstSeen': 1579933029,
    'lastSeen': 1579933029},
   {'domain': 'cbelmer-ops.duckduckgo.com',
    'firstSeen': 1619617320,
    'lastSeen': 1631077348},
   {'domain': 'use-greg1.duckduckgo.com',
    'firstSeen': 1624983645,
    'lastSeen': 1647970702},
   {'domain': 'use-devtesting5.duckduckgo.com',
    'firstSeen': 1624555975,
    'lastSeen': 1657906715},
   {'domain': 'use-devtesting2.duckduckgo.com',
    'firstSeen': 1630126882,
    'lastSeen': 1657906715},
   {'domain': 'staging-links.duckduckgo.com',
    'firstSeen': 1636329600,
    'lastSeen': 1641772800},
   {'domain': 'inw-links-aps-1.duckduckgo.com',
    'firstSeen': 1634860800,
    'lastSeen': 1641772800},
   {'domain': 'usw-links-aps-2.duckduckgo.com',
    'firstSeen': 1635724800,
    'lastSeen': 1641772800},
   {'domain': 'use-isa1.duckduckgo.com',
    'firstSeen': 1629954111,
    'lastSeen': 1656610706},
   {'domain': 'eun-kmanning1.duckduckgo.com',
    'firstSeen': 1651381308,
    'lastSeen': 1656998185},
   {'domain': 'euw-vnadig1.duckduckgo.com',
    'firstSeen': 1649268230,
    'lastSeen': 1660066738},
   {'domain': 'euw-adewes1.duckduckgo.com',
    'firstSeen': 1638605473,
    'lastSeen': 1660153146},
   {'domain': 'use-devtesting13.duckduckgo.com',
    'firstSeen': 1624583995,
    'lastSeen': 1662181250},
   {'domain': 'eun-ip-7.duckduckgo.com',
    'firstSeen': 1637366400,
    'lastSeen': 1662001885},
   {'domain': 'external-content.duckduckgo.com',
    'firstSeen': 1581676543,
    'lastSeen': 1589116773},
   {'domain': 'va-searchtests2.duckduckgo.com',
    'firstSeen': 1611716672,
    'lastSeen': 1649685049},
   {'domain': 'timtest1.duckduckgo.com',
    'firstSeen': 1547261544,
    'lastSeen': 1547261544},
   {'domain': 'bslayter.duckduckgo.com',
    'firstSeen': 1611122455,
    'lastSeen': 1622264547},
   {'domain': 'chuston.duckduckgo.com',
    'firstSeen': 1595134859,
    'lastSeen': 1622178114},
   {'domain': 'va-ddgc-staging-web1.duckduckgo.com',
    'firstSeen': 1546656271,
    'lastSeen': 1589123688},
   {'domain': 'va-github1.duckduckgo.com',
    'firstSeen': 1546629460,
    'lastSeen': 1589089495},
   {'domain': 'va-mattermost1.duckduckgo.com',
    'firstSeen': 1546625194,
    'lastSeen': 1589083963},
   {'domain': 'va-login1.duckduckgo.com',
    'firstSeen': 1546656200,
    'lastSeen': 1589075504},
   {'domain': 'ghightower.duckduckgo.com',
    'firstSeen': 1607493722,
    'lastSeen': 1627149660},
   {'domain': 'bttf.duckduckgo.com',
    'firstSeen': 1600837282,
    'lastSeen': 1607493724},
   {'domain': 'jupyter.duckduckgo.com',
    'firstSeen': 1633184072,
    'lastSeen': 1633186693},
   {'domain': 'usc-links-aps-1.duckduckgo.com',
    'firstSeen': 1634860800,
    'lastSeen': 1641772800},
   {'domain': 'usc-ip-10.duckduckgo.com',
    'firstSeen': 1639958400,
    'lastSeen': 1641772800},
   {'domain': 'usw-ip-10.duckduckgo.com',
    'firstSeen': 1638144000,
    'lastSeen': 1641772800},
   {'domain': 'proxy-use-1.duckduckgo.com',
    'firstSeen': 1634860800,
    'lastSeen': 1641772800},
   {'domain': 'inw-ip-8.duckduckgo.com',
    'firstSeen': 1636416000,
    'lastSeen': 1641772800},
   {'domain': 'usc-links-aps-4.duckduckgo.com',
    'firstSeen': 1640476800,
    'lastSeen': 1641772800},
   {'domain': 'aue-ip-7.duckduckgo.com',
    'firstSeen': 1637884800,
    'lastSeen': 1641772800},
   {'domain': 'aue-ip-10.duckduckgo.com',
    'firstSeen': 1636416000,
    'lastSeen': 1641772800},
   {'domain': 'proxy-ase-1.duckduckgo.com',
    'firstSeen': 1635724800,
    'lastSeen': 1641772800},
   {'domain': 'use-devtesting1.duckduckgo.com',
    'firstSeen': 1624510712,
    'lastSeen': 1657256496},
   {'domain': 'quackdev.duckduckgo.com',
    'firstSeen': 1600889775,
    'lastSeen': 1655787809},
   {'domain': 'use-yegg1.duckduckgo.com',
    'firstSeen': 1625239766,
    'lastSeen': 1658379704},
   {'domain': 'cbelmer.duckduckgo.com',
    'firstSeen': 1600664491,
    'lastSeen': 1607493723},
   {'domain': 'beta.duckduckgo.com',
    'firstSeen': 1579923634,
    'lastSeen': 1579923634},
   {'domain': 'jaryd.duckduckgo.com',
    'firstSeen': 1612682115,
    'lastSeen': 1626458493},
   {'domain': 'safe-usc-1.duckduckgo.com',
    'firstSeen': 1635120000,
    'lastSeen': 1641772800},
   {'domain': 'web-inw-1.duckduckgo.com',
    'firstSeen': 1635724800,
    'lastSeen': 1641772800},
   {'domain': 'eun-links-backend.duckduckgo.com',
    'firstSeen': 1634860800,
    'lastSeen': 1641772800},
   {'domain': 'images.duckduckgo.com',
    'firstSeen': 1579940617,
    'lastSeen': 1579940617},
   {'domain': 'ladamski.duckduckgo.com',
    'firstSeen': 1611295380,
    'lastSeen': 1611296107},
   {'domain': 'aaron.duckduckgo.com',
    'firstSeen': 1594875691,
    'lastSeen': 1626152513},
   {'domain': 'www.fantasy-kingdom.duckduckgo.com',
    'firstSeen': 0,
    'lastSeen': 0},
   {'domain': 'euw-lmattei1.duckduckgo.com',
    'firstSeen': 1651779168,
    'lastSeen': 1658252401},
   {'domain': 'use-tim1.duckduckgo.com',
    'firstSeen': 1624984360,
    'lastSeen': 1658811707},
   {'domain': 'richard.duckduckgo.com',
    'firstSeen': 1608012113,
    'lastSeen': 1631077326},
   {'domain': 'brs-links-aps-1.duckduckgo.com',
    'firstSeen': 1639440000,
    'lastSeen': 1641772800},
   {'domain': 'usw-links-backend.duckduckgo.com',
    'firstSeen': 1635724800,
    'lastSeen': 1641772800},
   {'domain': 'euw-atennent1.duckduckgo.com',
    'firstSeen': 1635313049,
    'lastSeen': 1656133375},
   {'domain': 'use-tstorey1.duckduckgo.com',
    'firstSeen': 1634873381,
    'lastSeen': 1661017130},
   {'domain': 'euw-karol1.duckduckgo.com',
    'firstSeen': 1628744535,
    'lastSeen': 1661103559},
   {'domain': 'usc-tpeoples1.duckduckgo.com',
    'firstSeen': 1636774845,
    'lastSeen': 1660712532},
   {'domain': 'usw-aaron1.duckduckgo.com',
    'firstSeen': 1628658106,
    'lastSeen': 1660712530},
   {'domain': 'vlad.duckduckgo.com',
    'firstSeen': 1595826048,
    'lastSeen': 1625374916},
   {'domain': 'ddh3.duckduckgo.com',
    'firstSeen': 1598245285,
    'lastSeen': 1625289482},
   {'domain': 'ddh8.duckduckgo.com',
    'firstSeen': 1600751767,
    'lastSeen': 1600751767},
   {'domain': 'va-sso1.duckduckgo.com',
    'firstSeen': 1546656210,
    'lastSeen': 1589123671},
   {'domain': 'next.duckduckgo.com',
    'firstSeen': 1579952745,
    'lastSeen': 1579952745},
   {'domain': 'www.uo.duckduckgo.com', 'firstSeen': 0, 'lastSeen': 0},
   {'domain': 'use-ip-9.duckduckgo.com',
    'firstSeen': 1635724800,
    'lastSeen': 1641772800},
   {'domain': 'euw-linkspme-aps.duckduckgo.com',
    'firstSeen': 1638748800,
    'lastSeen': 1641772800},
   {'domain': 'ddh7.duckduckgo.com',
    'firstSeen': 1553282690,
    'lastSeen': 1607493737},
   {'domain': 'va-jupyter2.duckduckgo.com',
    'firstSeen': 1610372543,
    'lastSeen': 1610372598},
   {'domain': 'usc-cbolin1.duckduckgo.com',
    'firstSeen': 1625070862,
    'lastSeen': 1650430939},
   {'domain': 'use-natalie1.duckduckgo.com',
    'firstSeen': 1624983551,
    'lastSeen': 1659070947},
   {'domain': 'eun-ibebbington1.duckduckgo.com',
    'firstSeen': 1627664582,
    'lastSeen': 1659359248},
   {'domain': 'use-devtesting15.duckduckgo.com',
    'firstSeen': 1624584148,
    'lastSeen': 1661576502},
   {'domain': 'euw-jleibstein1.duckduckgo.com',
    'firstSeen': 1631077308,
    'lastSeen': 1661403732},
   {'domain': 'eun-sschirmer1.duckduckgo.com',
    'firstSeen': 1624985471,
    'lastSeen': 1661403696},
   {'domain': 'use-sso1.duckduckgo.com',
    'firstSeen': 0,
    'lastSeen': 1661716704},
   {'domain': 'eun-ip-10.duckduckgo.com',
    'firstSeen': 1639180800,
    'lastSeen': 1662000413},
   {'domain': 'dave.duckduckgo.com',
    'firstSeen': 1621746093,
    'lastSeen': 1627622188},
   {'domain': 'dvigliotti.duckduckgo.com',
    'firstSeen': 1595480505,
    'lastSeen': 1627190271},
   {'domain': 'olivia.duckduckgo.com',
    'firstSeen': 1596171717,
    'lastSeen': 1619672549},
   {'domain': 'robert.duckduckgo.com',
    'firstSeen': 1598763706,
    'lastSeen': 1626588149},
   {'domain': 'abeyang.duckduckgo.com',
    'firstSeen': 1596171721,
    'lastSeen': 1596171729},
   {'domain': 'eun-fbunn1.duckduckgo.com',
    'firstSeen': 1632254475,
    'lastSeen': 1658252400},
   {'domain': 'usc-bhall1.duckduckgo.com',
    'firstSeen': 1630472497,
    'lastSeen': 1658639376},
   {'domain': 'use-maria1.duckduckgo.com',
    'firstSeen': 1629954119,
    'lastSeen': 1649826115},
   {'domain': 'maaike.duckduckgo.com',
    'firstSeen': 1597035737,
    'lastSeen': 1618203737},
   {'domain': 'karol.duckduckgo.com',
    'firstSeen': 1599109308,
    'lastSeen': 1628744519},
   {'domain': 'bhall.duckduckgo.com',
    'firstSeen': 1598245290,
    'lastSeen': 1629003638},
   {'domain': 'ase-linkspme-aps.duckduckgo.com',
    'firstSeen': 1635724800,
    'lastSeen': 1641772800},
   {'domain': 'use-linkspme-aps.duckduckgo.com',
    'firstSeen': 1635724800,
    'lastSeen': 1641772800},
   {'domain': 'aue-ip-3.duckduckgo.com',
    'firstSeen': 1636156800,
    'lastSeen': 1641772800},
   {'domain': 'inw-bastion1.duckduckgo.com',
    'firstSeen': 1638316800,
    'lastSeen': 1641772800},
   {'domain': 'www.paeb.duckduckgo.com', 'firstSeen': 0, 'lastSeen': 0},
   {'domain': 'use-devtesting7.duckduckgo.com',
    'firstSeen': 1624546460,
    'lastSeen': 1656219706},
   {'domain': 'transactional-emails.internal-prod.duckduckgo.com',
    'firstSeen': 1618601554,
    'lastSeen': 1655788435},
   {'domain': 'use-devtesting8.duckduckgo.com',
    'firstSeen': 1624578821,
    'lastSeen': 1660066738},
   {'domain': 'brs-ip-2.duckduckgo.com',
    'firstSeen': 1636502400,
    'lastSeen': 1662005381},
   {'domain': 'use-devcpu2.duckduckgo.com',
    'firstSeen': 1624629100,
    'lastSeen': 1659330035},
   {'domain': 'eun-sosbourne1.duckduckgo.com',
    'firstSeen': 1633561735,
    'lastSeen': 1657256514},
   {'domain': 'ddh12.duckduckgo.com',
    'firstSeen': 1609738834,
    'lastSeen': 1626153385},
   {'domain': 'cristian.duckduckgo.com',
    'firstSeen': 1596517304,
    'lastSeen': 1625594480},
   {'domain': 'tim.duckduckgo.com',
    'firstSeen': 1598158878,
    'lastSeen': 1626584441},
   {'domain': 'euw-richard1.duckduckgo.com',
    'firstSeen': 1624983787,
    'lastSeen': 1645250540},
   {'domain': 'ralston.duckduckgo.com',
    'firstSeen': 1596510798,
    'lastSeen': 1609653695},
   {'domain': 'maria.duckduckgo.com',
    'firstSeen': 1609999293,
    'lastSeen': 1609999295},
   {'domain': 'mateusz.duckduckgo.com',
    'firstSeen': 1596949312,
    'lastSeen': 1609614074},
   {'domain': 'rsmukulis.duckduckgo.com',
    'firstSeen': 1611049218,
    'lastSeen': 1611049294},
   {'domain': 'jeffrey.duckduckgo.com',
    'firstSeen': 1597986096,
    'lastSeen': 1597986186},
   {'domain': 'caine.duckduckgo.com',
    'firstSeen': 1602910969,
    'lastSeen': 1622956316},
   {'domain': 'staticcdn.duckduckgo.com',
    'firstSeen': 0,
    'lastSeen': 1638748800},
   {'domain': 'use-ip-15.duckduckgo.com',
    'firstSeen': 1635724800,
    'lastSeen': 1641772800},
   {'domain': 'inw-ip-2.duckduckgo.com',
    'firstSeen': 1638144000,
    'lastSeen': 1641772800},
   {'domain': 'ase-ip-9.duckduckgo.com',
    'firstSeen': 1635724800,
    'lastSeen': 1641772800},
   {'domain': 'usc-jader1.duckduckgo.com',
    'firstSeen': 1647013983,
    'lastSeen': 1647013994},
   {'domain': 'eun-login.duckduckgo.com',
    'firstSeen': 1659344799,
    'lastSeen': 1659452169},
   {'domain': 'usw-jeffrey1.duckduckgo.com',
    'firstSeen': 1628658106,
    'lastSeen': 1660712529},
   {'domain': 'euw-ip-3.duckduckgo.com',
    'firstSeen': 1637798400,
    'lastSeen': 1661996481},
   {'domain': 'use-devcpu3.duckduckgo.com',
    'firstSeen': 1630040504,
    'lastSeen': 1662267739},
   {'domain': 'usc-links-aps.duckduckgo.com',
    'firstSeen': 1635811200,
    'lastSeen': 1641772800},
   {'domain': 'usw-ip-2.duckduckgo.com',
    'firstSeen': 1637107200,
    'lastSeen': 1641772800},
   {'domain': 'eur-bastion1.duckduckgo.com',
    'firstSeen': 1546631215,
    'lastSeen': 1589093254},
   {'domain': 'watrcoolr.duckduckgo.com',
    'firstSeen': 1579965923,
    'lastSeen': 1579965923},
   {'domain': 'ankit.duckduckgo.com',
    'firstSeen': 1595826042,
    'lastSeen': 1621919836},
   {'domain': 'vera.duckduckgo.com',
    'firstSeen': 1595826038,
    'lastSeen': 1624425446},
   {'domain': 'brindy.duckduckgo.com',
    'firstSeen': 1620018125,
    'lastSeen': 1620018128},
   {'domain': 'marcosh.duckduckgo.com',
    'firstSeen': 1619931693,
    'lastSeen': 1630519327},
   {'domain': 'use-devtesting10.duckduckgo.com',
    'firstSeen': 1624584148,
    'lastSeen': 1659675650},
   {'domain': 'euw-sbonora1.duckduckgo.com',
    'firstSeen': 1629299885,
    'lastSeen': 1661017131},
   {'domain': 'euw-bszanto1.duckduckgo.com',
    'firstSeen': 1631224461,
    'lastSeen': 1657688498},
   {'domain': 'eun-qnguyen1.duckduckgo.com',
    'firstSeen': 1643954501,
    'lastSeen': 1660153146},
   {'domain': 'eun-jkingston1.duckduckgo.com',
    'firstSeen': 1625070850,
    'lastSeen': 1660366923},
   {'domain': 'euw-davidg1.duckduckgo.com',
    'firstSeen': 1624985037,
    'lastSeen': 1661403721},
   {'domain': 'usc-bslayter1.duckduckgo.com',
    'firstSeen': 1624984306,
    'lastSeen': 1661403694},
   {'domain': 'use-ip-25.duckduckgo.com',
    'firstSeen': 1635724800,
    'lastSeen': 1662012576},
   {'domain': 'inw-ip-5.duckduckgo.com',
    'firstSeen': 1635724800,
    'lastSeen': 1662006247},
   {'domain': 'use-bkowalewicz1.duckduckgo.com',
    'firstSeen': 1651779387,
    'lastSeen': 1651779387},
   {'domain': 'eun-links-aps-5.duckduckgo.com',
    'firstSeen': 1635724800,
    'lastSeen': 1641772800},
   {'domain': 'ase-links-aps-3.duckduckgo.com',
    'firstSeen': 1640390400,
    'lastSeen': 1641772800},
   {'domain': 'eun-kjarvis1.duckduckgo.com',
    'firstSeen': 1641423400,
    'lastSeen': 1661708347},
   {'domain': 'eur-login1.duckduckgo.com',
    'firstSeen': 1546631345,
    'lastSeen': 1589091609},
   {'domain': 'shop.duckduckgo.com',
    'firstSeen': 1579961124,
    'lastSeen': 1579961124},
   {'domain': 'jleibstein.duckduckgo.com',
    'firstSeen': 1618614080,
    'lastSeen': 1625374906},
   {'domain': 'cbolin.duckduckgo.com',
    'firstSeen': 1612850517,
    'lastSeen': 1618376539},
   {'domain': 'va-release1.duckduckgo.com',
    'firstSeen': 1597986068,
    'lastSeen': 1611036031},
   {'domain': 'mia-us.duckduckgo.com',
    'firstSeen': 1609999362,
    'lastSeen': 1627189339},
   {'domain': 'usc-links-aps-2.duckduckgo.com',
    'firstSeen': 1635724800,
    'lastSeen': 1641772800},
   {'domain': 'use-ip-16.duckduckgo.com',
    'firstSeen': 1637884800,
    'lastSeen': 1641772800},
   {'domain': 'use-cclarke1.duckduckgo.com',
    'firstSeen': 1620947502,
    'lastSeen': 1659416522},
   {'domain': 'storybook.duckduckgo.com',
    'firstSeen': 1658765064,
    'lastSeen': 1659148401},
   {'domain': 'usw-lkruger1.duckduckgo.com',
    'firstSeen': 1651554082,
    'lastSeen': 1658338766},
   {'domain': 'usw-igrey1.duckduckgo.com',
    'firstSeen': 1632964693,
    'lastSeen': 1658338744},
   {'domain': 'eun-amallon1.duckduckgo.com',
    'firstSeen': 1643954531,
    'lastSeen': 1660153146},
   {'domain': 'use-devtesting14.duckduckgo.com',
    'firstSeen': 1624584061,
    'lastSeen': 1660412324},
   {'domain': 'improving.duckduckgo.com',
    'firstSeen': 0,
    'lastSeen': 1660521600},
   {'domain': 'use-eric1.duckduckgo.com',
    'firstSeen': 1643176898,
    'lastSeen': 1662440520},
   {'domain': 'va-testing1.duckduckgo.com',
    'firstSeen': 1575055791,
    'lastSeen': 1600970467},
   {'domain': 'euw-mhofstra1.duckduckgo.com',
    'firstSeen': 1625586816,
    'lastSeen': 1650303522},
   {'domain': 'blog.duckduckgo.com',
    'firstSeen': 1579924397,
    'lastSeen': 1579924397},
   {'domain': 'ddh1.duckduckgo.com',
    'firstSeen': 1598072516,
    'lastSeen': 1609999332},
   {'domain': 'jag.duckduckgo.com',
    'firstSeen': 1595134861,
    'lastSeen': 1608962528},
   {'domain': 'use-searchtests3.duckduckgo.com',
    'firstSeen': 1645799395,
    'lastSeen': 1645799395},
   {'domain': 'esullivan.duckduckgo.com',
    'firstSeen': 1607580135,
    'lastSeen': 1629782167},
   {'domain': 'euw-msmaga1.duckduckgo.com',
    'firstSeen': 1629838948,
    'lastSeen': 1629839021},
   {'domain': 'kcarestia.duckduckgo.com',
    'firstSeen': 1628830918,
    'lastSeen': 1628830918},
   {'domain': 'ddh11.duckduckgo.com',
    'firstSeen': 1596430892,
    'lastSeen': 1628917361},
   {'domain': 'craig.duckduckgo.com',
    'firstSeen': 1610518592,
    'lastSeen': 1629003638},
   {'domain': 'use-ip-24.duckduckgo.com',
    'firstSeen': 1635120000,
    'lastSeen': 1641772800},
   {'domain': 'use-ip-18.duckduckgo.com',
    'firstSeen': 1639440000,
    'lastSeen': 1641772800},
   {'domain': 'use-ip-13.duckduckgo.com',
    'firstSeen': 1636934400,
    'lastSeen': 1641772800},
   {'domain': 'use-ip-22.duckduckgo.com',
    'firstSeen': 1635724800,
    'lastSeen': 1641772800},
   {'domain': 'aue-links-aps.duckduckgo.com',
    'firstSeen': 1635724800,
    'lastSeen': 1641772800},
   {'domain': 'euw-jlyp1.duckduckgo.com',
    'firstSeen': 1644040901,
    'lastSeen': 1650949367},
   {'domain': 'eun-ogasquez1.duckduckgo.com',
    'firstSeen': 1644559289,
    'lastSeen': 1656610707},
   {'domain': 'use-cbelmer1.duckduckgo.com',
    'firstSeen': 1625000058,
    'lastSeen': 1657515711},
   {'domain': 'use-devtesting11.duckduckgo.com',
    'firstSeen': 1624583994,
    'lastSeen': 1661576512},
   {'domain': 'euw-konrad1.duckduckgo.com',
    'firstSeen': 1625590316,
    'lastSeen': 1660153146},
   {'domain': 'euw-dkapusta1.duckduckgo.com',
    'firstSeen': 1648530089,
    'lastSeen': 1662354065},
   {'domain': 'use-dave1.duckduckgo.com',
    'firstSeen': 1630299710,
    'lastSeen': 1662053940},
   {'domain': 'afstest.duckduckgo.com',
    'firstSeen': 1636588800,
    'lastSeen': 1662010512},
   {'domain': 'amiseed-dev.duckduckgo.com',
    'firstSeen': 1549643003,
    'lastSeen': 1550247476},
   {'domain': 'ddgc-staging.duckduckgo.com',
    'firstSeen': 1517184000,
    'lastSeen': 1532304000},
   {'domain': 'ddh5.duckduckgo.com',
    'firstSeen': 1602276554,
    'lastSeen': 1621054919},
   {'domain': 'rob.duckduckgo.com',
    'firstSeen': 1601442125,
    'lastSeen': 1627149660},
   {'domain': 'yegg.duckduckgo.com',
    'firstSeen': 1599886919,
    'lastSeen': 1599933699},
   {'domain': 'login.duckduckgo.com',
    'firstSeen': 1546619393,
    'lastSeen': 1579234829},
   {'domain': 'eun-ffaccin1.duckduckgo.com',
    'firstSeen': 1644839389,
    'lastSeen': 1656392573},
   {'domain': 'use-devtesting4.duckduckgo.com',
    'firstSeen': 1624553943,
    'lastSeen': 1656219685},
   {'domain': 'quack.duckduckgo.com',
    'firstSeen': 1600889948,
    'lastSeen': 1655788231},
   {'domain': 'eun-dvandyke1.duckduckgo.com',
    'firstSeen': 1642312851,
    'lastSeen': 1655355721},
   {'domain': 'euw-mkaranasou1.duckduckgo.com',
    'firstSeen': 1637206001,
    'lastSeen': 1661144554},
   {'domain': 'usc-zach1.duckduckgo.com',
    'firstSeen': 1624985128,
    'lastSeen': 1660153137},
   {'domain': 'usw-linkspme-aps.duckduckgo.com',
    'firstSeen': 1640476800,
    'lastSeen': 1662014485},
   {'domain': 'va-terrorform4.duckduckgo.com',
    'firstSeen': 1599781379,
    'lastSeen': 1599781417},
   {'domain': 'eun-links-aps.duckduckgo.com',
    'firstSeen': 1637625600,
    'lastSeen': 1641772800},
   {'domain': 'proxy-aue-1.duckduckgo.com',
    'firstSeen': 1639440000,
    'lastSeen': 1641772800},
   {'domain': 'aue-ip-4.duckduckgo.com',
    'firstSeen': 1636848000,
    'lastSeen': 1641772800},
   {'domain': 'use-ip-7.duckduckgo.com',
    'firstSeen': 1635811200,
    'lastSeen': 1641772800},
   {'domain': 'use-ip-3.duckduckgo.com',
    'firstSeen': 1638316800,
    'lastSeen': 1641772800},
   {'domain': 'usw-links-aps-1.duckduckgo.com',
    'firstSeen': 1635552000,
    'lastSeen': 1641772800},
   {'domain': 'brs-ip-1.duckduckgo.com',
    'firstSeen': 1635120000,
    'lastSeen': 1641772800},
   {'domain': 'brs-ip-3.duckduckgo.com',
    'firstSeen': 1635811200,
    'lastSeen': 1641772800},
   {'domain': 'usw-ip-3.duckduckgo.com',
    'firstSeen': 1634860800,
    'lastSeen': 1641772800},
   {'domain': 'ddh9.duckduckgo.com',
    'firstSeen': 1611036900,
    'lastSeen': 1611036900},
   {'domain': 'cclarke.duckduckgo.com',
    'firstSeen': 1626152488,
    'lastSeen': 1632286888},
   {'domain': 'euw-mtsoy1.duckduckgo.com',
    'firstSeen': 1645747613,
    'lastSeen': 1658725305},
   {'domain': 'brs-ip-10.duckduckgo.com',
    'firstSeen': 1635120000,
    'lastSeen': 1661996175},
   {'domain': 'usc-ralston1.duckduckgo.com',
    'firstSeen': 1630299696,
    'lastSeen': 1662053938},
   {'domain': 'eun-emanuele1.duckduckgo.com',
    'firstSeen': 1624985812,
    'lastSeen': 1662440503},
   {'domain': 'va-terrorform2.duckduckgo.com',
    'firstSeen': 1611468072,
    'lastSeen': 1630000956},
   {'domain': 'osoriano.duckduckgo.com',
    'firstSeen': 1597006499,
    'lastSeen': 1630904491},
   {'domain': 'va-jenkins-slave1.duckduckgo.com',
    'firstSeen': 1546656400,
    'lastSeen': 1578838262},
   {'domain': 'eun-abrown1.duckduckgo.com',
    'firstSeen': 1625240139,
    'lastSeen': 1653068359},
   {'domain': 'mpruett.duckduckgo.com',
    'firstSeen': 1601834485,
    'lastSeen': 1622656882},
   {'domain': 'jkingston.duckduckgo.com',
    'firstSeen': 1608344256,
    'lastSeen': 1628917317},
   {'domain': 'euw-agimenez1.duckduckgo.com',
    'firstSeen': 1625240230,
    'lastSeen': 1656910946},
   {'domain': 'usw-flawrence1.duckduckgo.com',
    'firstSeen': 1630299693,
    'lastSeen': 1659416521},
   {'domain': 'usc-jabel1.duckduckgo.com',
    'firstSeen': 1639516717,
    'lastSeen': 1659589835},
   {'domain': 'use-ip-12.duckduckgo.com',
    'firstSeen': 1637884800,
    'lastSeen': 1641772800},
   {'domain': 'inw-links-aps.duckduckgo.com',
    'firstSeen': 1635811200,
    'lastSeen': 1641772800},
   {'domain': 'use-ip-6.duckduckgo.com',
    'firstSeen': 1635724800,
    'lastSeen': 1641772800},
   {'domain': 'inw-linkspme-aps.duckduckgo.com',
    'firstSeen': 1637366400,
    'lastSeen': 1641772800},
   {'domain': 'usw-vlad1.duckduckgo.com',
    'firstSeen': 1633928508,
    'lastSeen': 1644863919},
   {'domain': 'usw-ip-1.duckduckgo.com',
    'firstSeen': 1634860800,
    'lastSeen': 1641772800},
   {'domain': 'euw-lamigo1.duckduckgo.com',
    'firstSeen': 1644904903,
    'lastSeen': 1661103560},
   {'domain': 'usc-caine1.duckduckgo.com',
    'firstSeen': 1624996977,
    'lastSeen': 1660412323},
   {'domain': 'use-vera1.duckduckgo.com',
    'firstSeen': 1625071263,
    'lastSeen': 1660194117},
   {'domain': 'use-devtesting3.duckduckgo.com',
    'firstSeen': 1624553504,
    'lastSeen': 1659675650},
   {'domain': 'eun-rob1.duckduckgo.com',
    'firstSeen': 1624984546,
    'lastSeen': 1661922136},
   {'domain': 'ase-bastion1.duckduckgo.com',
    'firstSeen': 1636761600,
    'lastSeen': 1662001627},
   {'domain': 'eun-maaike1.duckduckgo.com',
    'firstSeen': 1627413649,
    'lastSeen': 1662140364}]}}

See also related topics: