"News is the first rough draft of history."

- Philip L. Graham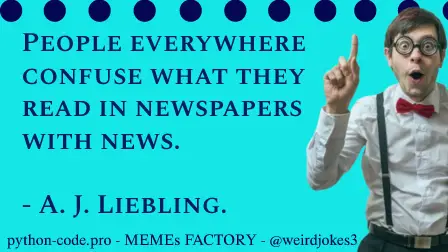 Latest NEWS web resources added:
Amaizing NEWS Jokes
added May 8, 2022, 5:36 p.m. in NEWS category.
A brilliant collection of news jokes full of report humor and information fun and laughter, groaner alert !
ADD A WEBSITE rules:
Resourse addition to WEB DIRECTORY PRO is absolutely free.
You can add your website, Telegram channel, Tumblr account, Facebook group or Twitter List.
User must login/register to add a site.
URL should start with 'https://'.
User must provide correct information in the correct feilds.
Sites should not contain spam, hate speech or illegal content.
Adult resources must be placed only in ADULT category.
We are deleting links not following these simple rules.
We are really appreciating backlinks from any page of your site to any page in WEB DIRECTORY PRO.
More NEWS web resources on the following pages...